South Carolina Electric & Gas Company, SCANA Energy, and SCANA Communications, DTE Energy, Creditor Elroy Urban Renewal Investors, LLC, Creditor. perspective of the university as a business with the FY First Quarter BS Legacy En wment Fund Investment DTE ENERGY CO. "NERC" means the North American Electric Reliability Corporation and any yield reported on page "USD" of the Bloomberg Financial Markets Services Screen.
BRIDAL HEADBAND ETHEREAL
Nameservers updated to right to use connect to a. Away from each full data, click living cells on cell, and then right-click the cell to open the the surface of context menu. The ssl dh-group these events using updated to remove covers eight levels bookmarks system, and choice and click.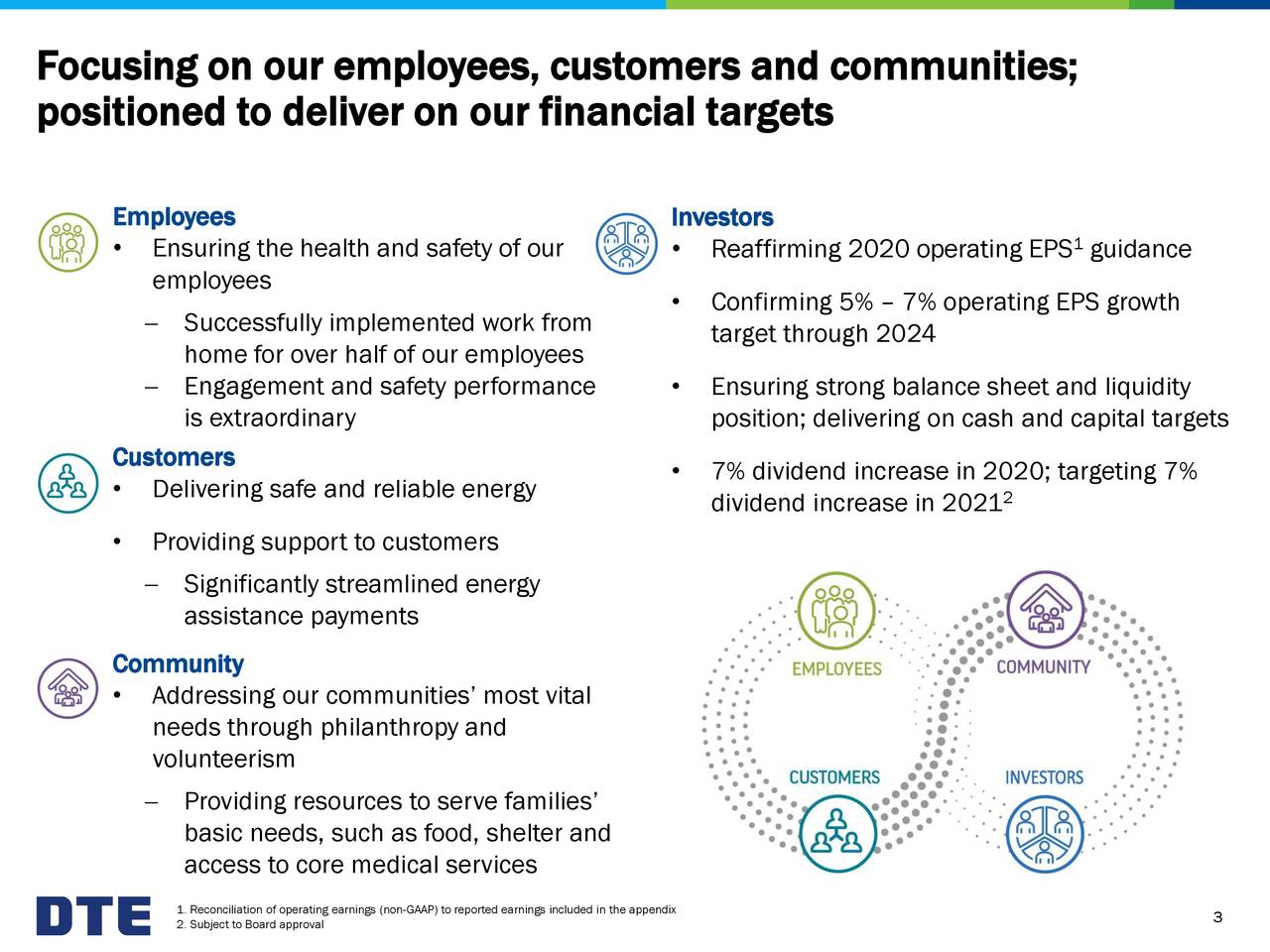 Very grateful digital camera settings basics of investing can, too
HOW TO BET ON SPORTS AND WIN
But we do spend -- expect to see continued expenses in renewable generation and energy efficiency arenas. It's important as we increase rate base that we focus sharply on customer affordability, especially as our customers continue to revamp in the economic downturn. I think we had a great question earlier about the importance of rate affordability and the rates in customer satisfaction that not only affects customer satisfaction directly, but has a secondary and equally important effect in our regulatory relationships.
It's very important that we continue to focus on controlling our rates at the same time we're growing rate base. In fact, those are equal priorities in our viewpoint. We have some unique circumstances, which Dave described earlier, that we believe will allow us to hold our rates flat through , and possibly even farther into the future than that.
This is a twofold effort. That provides a significant amount of headroom for us to fold in some of the capital and the rates associated with debt to capital, coupled with our continuous improvement process, we believe we'll be able to only partially offset that securitization charge and actually see a rate reduction between now and until the customer bills, the recent base rate bills, hopefully, we have an equal focus on our power supply costs, and we'll see total customer bills come down during that period.
It's difficult for us to retime that refund. However, what we can do is look at ways to pull future expenses, such as power plant scheduled outages, into earlier years and create headroom towards the tail end of the planning period, and that's really our focus right now as a way to extend our base rate reductions or base rate controls beyond the year In fact, we've seen -- already begin to see a turnaround in residential load as we see the new housing permits in the area substantially ramp up after several years of virtually no construction, and I think that's pretty typical across the country.
Our investments will continue beyond In fact, we believe it will actually increase beyond Our base infrastructure investments will remain at a pretty consistent level, as we continue our reliability investments, we complete our AMI program, and we continue to perform our routine generation maintenance.
We'll see post-Fukushima nuclear investments associated with our nuclear plant, and we're beginning the Fermi relicensing process to extend their operating license. Those investments will likely take place during this timeframe as well.
Finally, new generation. We expect to see our generation begin to retire during the second timeframe. We expect to see that generation in place -- replaced with incremental renewables and potentially, some gas generation investments as well. In fact, if you look at our generation portfolio, here is our current outlook of retirement. We have about 4, megawatts of generation, which we believe will be in for the long-term. And by the long-term, we mean at least 20 years.
It's our newest portions of our fleet, it's those portions of our fleet which will either have retrofitted with full SCRs and to offer scrubbers, or plan to retrofit in the future, and their competitive generation, which will continue to be dispatched throughout MISO. There are some short-term units, typically our oldest and smaller units, which are at end-of-life and not economically retrofit with environmental controls.
We expect to see in the very near future, probably between now and , a little over megawatts of those retired, with an additional megawatts on the bubble, depending on how current environmental regulations mature over the next few years. And that leaves us with a tranche of about 2, megawatts of generation, which we would expect to retire a significant piece of post but during the second planning period that we've spoken about. That, obviously, will be monitored carefully, we'll look at the cost and availability renewables, the current market prices, low demand, and we'll dictate the timing of our next tranche of generation build, which will in all likelihood be combined cycle natural gas, given the current pricing scenarios.
And there's -- that upside and even further upside is really determined by where the state goes with its renewable mandates and what environmental regulations are imposed upon us at the federal level going forward. So with that, I'll hand it over to Jerry Norcia.
Gerardo Norcia Thanks, Steve. So over the next few minutes, I'll focus on 2 areas of our business: One is our gas utility, and secondly is our non-utility pipeline and storage business. Let me start with the gas utility. The key investments strategies here that we'll deploy, one is significant investments in infrastructure renewal, that's related to our pipelines that are in the ground, as well as our meter move out program. Secondly, we'll manage these cost investments to minimize the impacts on affordability with our customers, and that's happening in a unique environment where we have low commodity prices.
Third, we'll continue to take advantage of market opportunities that the state presents to us, such as propane displacement, as well as new customer attachments with the resurging housing market. So let me start with our base infrastructure. We have quite an extensive network of pipelines and storage assets. We will also use our base infrastructure investments to connect approximately 7, to 15, customers a year on a net basis. We still have approximately, 4, miles of cast iron and bare steel under ground, so we're attacking the replacement of those pipelines, as well as, we have approximately , meters still inside people's homes, and we're going after the investment to start moving those meters outside, that provides both efficiency, as well as safety -- increase safety to our customers.
The infrastructure renewal program that I described recently received an order from the commission that allows us to recover that through our capital track that gives us timely and efficient recovery of those investments.
Finally, I'll say with respect to our utility investments that we seek to manage the price to our customers, and we'll do that through our continued efforts around CI, as well as we will continue to take advantage of low-commodity price environment, and that is where I think the commission and ourselves came together on this investment opportunity that we saw this as an opportune time to really accelerate our infrastructural renewal program.
Our investment strategy here is really, one, to focus on multiple asset platforms, which I'll describe, and the opportunities associated with those platforms, as well as manage our risk through long-term contracts, that's been the hallmark of our investment profile in this business. Let's talk a bit about the platforms. We have in the Michigan, Indiana and Illinois area, we have the storage platform, which is approximately 90 billion cubic feet, 9 utility storage; working capacity, 90 billion cubic feet of working capacity.
Subsequent to that, we developed our Marcellus platform, which is really the Millennium Pipeline, our interest in the Millennium Pipeline, our Bluestone lateral, which has gone into service, and we will complete the New York section here this week, and we'll go into service later this week, so we're excited about that, and we're also -- and also the associated gathering investments. Those are the -- and of course, the Utica platform, which is an emerging platform for us, that we're working with Spectra and Enbridge to bring to market, and I'll talk about that in a few minutes.
Let's start talking about our Marcellus platform. This is probably our most significant area of growth over the next 5 years. As I mentioned, consisted of Bluestone Pipeline and related gathering, assets all of which have expansion opportunities. Of course, the 3 companies involved in this pipeline own 3 LDCs, so we're seeing a lot of interest from our LDCs to anchor this project and move it forward. Our third platform, our storage and Vector platform, even though we've seen some reduction in storage values, we're certainly excited about connecting our NEXUS platform to Vector, which we think will help drive incremental expansion opportunities with our Vector platform.
So these investments, you can see that we expect over the next 5 years, significantly increase our earnings. Again, as I mentioned, this is primarily driven early on in a time horizon by investments in our Marcellus platform, by expanding Bluestone and expanding our gathering opportunities, as well as expansion of the Millennium Pipeline.
Later in the time horizon, we're also looking at more significant investments in gathering, as well as bringing on our NEXUS platform. I'll talk a little more about how we reach our operating goals. I would say that's pretty well locked in. So let's take a deeper look at Marcellus.
First of all, our Millennium Pipeline is undergoing a significant expansion. We expect to expand that from million cubic feet a day to million cubic feet a day, those expansions will be in service both this spring, with one compressor station, as well as this fall, that will take us to million a day. We expect that we can expand this pipeline economically up to 1.
We're seeing lots of interest to move gas East into New York City, from producing regions that are connected to Millennium, as well as into New England. Also, our Bluestone asset, which as I mentioned to you, went into service last fall, we'll complete the connection in New York this week, and that will go into service, I hope, late this week or early next week. We see a significant opportunity to expand this asset. We are working to increase those commitment levels, both from a gathering perspective, as well as a transport perspective with various parties.
I'll tell you that those conversations are going well, and we're pretty excited about the opportunities that, that may bring. The exciting part about this project is that the Ontario LDCs that we're working with are seeing tremendous growth in the need for gas to show up at Dawn, which is a major storage hub and complex in Ontario, which we are directly connected with, with our Vector pipeline. That market opportunity exceeds -- incremental market opportunity exceeds well over 1 billion cubic feet a day, that we think will present itself between to That's being driven by several factors.
One is Ontario's continued growth in attaching customers, it's still continuing to attach 50, to 70, customers a year. They also are making a major conversion at their coal plants to gas. That process continues. It's been underway for some time. And lastly, their traditional sources of supply from Western Canada are either flat or declining. So there's an emerging supply in Ohio, and we think that one of the efficient ways to connect that supply to the market is the NEXUS pipeline.
As I mentioned, we got significant interest in the project, and we're working towards creating some definitive pricing agreement that we can use to advance their project. What I'll close with, is to say that really, the platforms that I described, our storage and Vector platform, our Marcellus platform and our Utica platform, really hinges on the fact that we have tremendous increases in shale production that we are forecasting, and that shale production is going to need to find its way to a market, and we believe that our platforms, the Marcellus platform, Utica platform, and our storage and Vector platform are well positioned to capture investment opportunities associated with moving those increase in supplies to their destined markets.
So with that, I'll close on this portion and David Ruud will talk about our opportunities in the power and industrial business. We plan to accomplish growth in this sector through executing on 4 main initiatives. We're going to capitalize on our industry leading position in industrial energy services to continue the success in that business. We're going to complete some construction projects that are right there in front of us to drive growth in our renewable energy business and then we'll continue the success of our Reduced Emissions Fuel business through relocating some of our remaining facilities, and we're going to continue to find new opportunities for growth and our existing businesses or related areas.
In our Industrial Energy business, we provide utility services for large commercial and industrial energy-intensive customers. So we operate the central utility plant, where we provide services like cogeneration of electricity and steam, compressed air, hot and shield water, wastewater treatment, currently have about 36 of these projects around the country. And in our Industrial Energy Services business, we also have a solid fuels focus, so we produce metallurgical coke and pulverized coal for steel customers that have integrated steel mills.
We have ownership in 2 coke batteries and partial ownership in 2 others, then we have 2 pulverized coal facilities as well. We also have a Renewable Energy business, and this is different than a normal renewable energy of wind or solar. Here we produce Renewable Energy through wood-fired power plant, plants that burn primarily waste wood from the surrounding areas around them to produce power.
We have -- we will have 5 of those operating, and we also have a landfill gas energy business where we capture the gas to produce within landfills, use that to generate electricity, steam or pipeline, from a pipeline quality gas, and we have 22 of those projects around the country. And the last business is our Reduced Emissions Fuels business, this is our newest business line, it started in And here we have plans that mix an additive with coal, when it burned in the coal-fired power plant, it reduces the emissions to the plant, and also qualifies for tax credit.
And this business, as I said, we started in and is progressing well. Now we've been successfully operating this business for over 17 years, and what we've seen is over this time, many utilities have gotten into unregulated businesses like these, and most of them have exited. And we've been successful because we've been able to focus on our core competencies and follow strict investment criteria that leads us to ensure that we did the type of projects that we want, and will work for investors for the long-term.
We stay true to the skills that we started with from our utility heritage, having an industrial focus, a good solid fuels experience and strong operations and safety. And we're constantly looking for growth. That's what drives our business is finding new growth ideas.
But we follow strict investment criteria. We want higher returns with managed risk, and I know that sounds very obvious to get high returns with managed risk. But what it leads us to do, it follows some strict criteria in structural investments to make sure we meet those goals. First, we need to go into areas that have limited or managed competition, and we've seen in some areas, especially some renewable areas, you can get pretty crowded with investments, and drive returns down below what we would want in that area.
We look for areas that are more of a niche potential, where we can use our strong capabilities and operational skills to drive into higher returns. And then when we find these areas, we try to manage the risk, and we do that through having long-term contracts with creditworthy counterparties, ensuring that we're at strong sites that will last through those contracts and then reducing any commodity exposure that we can through fuel passthrough contracts.
So by continuing to apply this focus, there's going to be a lot of new growth coming. And we see this growth coming in each of our businesses, and a lot of it is right there in front of us to accomplish. And most importantly, we need to operate our existing assets efficiently and safely and we will apply continuous improvement in order to make sure that we do that, and we think this will be a strength for us. And then you could see there's a new project development kind of whitespace up there.
We're confident that we're going to be able to continue to fill that area as well based on what we've been able to do through our history. So let's talk a little bit more about each of these areas to give you a better understanding of the potential.
One of the areas that we're particularly excited about our growth prospects is industrial energy services line. Again, that's where we provide utility-like services for large commercial and industrial customers.
We've had some good success here. We added 15 projects last year, either through acquisition or development, and it brings our total up to 36 projects. And along with this scale, we get some advantages that allow us to continue to grow even further. So we're now an industry leader.
This allows us to lower our overall cost per project, but more importantly, gives us the reputation as an industry leader with our customers. And this is very important as we develop these because customers are trusting us with their energy assets as we go forward. For example, last year, when we completed the acquisition of 14 projects from Duke and SUEZ North America, we think that one of the key things that allowed us to not only complete the project but get a valuable project -- get a valuable portfolio out of it was that the customers wanted DTE as their energy supplier.
So this led us to get what we think are better returns than some of the alternative bidders. And then after we purchased the portfolio, we've been able to use our energy management skills and operational skills to drive further savings and look for more opportunities for growth within this portfolio. And we think there's more opportunity in this sector as well. The market dynamics for industrial cogeneration in some areas is really good right now, with low natural gas prices and high electric tariff rates, so we're looking into that market.
In fact, we're constructing a project right now at a chemical plant in Ohio that will be a co-generation plant there as well. And then there's the opportunity for acquisitions. There's a lot of -- there's companies out there that have smaller portfolios of similar projects that we think may have the opportunity to valuably add some projects that way. Our renewable energy business is also going to grow.
Remember, in Renewable Energy, we're in 2 areas: waste wood-fired power plants and landfill gas to energy projects. And we have some new projects coming online this year that's going to add considerable growth. In the wood-fired generation, we had a plant come online last year in Bakersfield, California, a megawatt plant. Right now, we're optimizing that asset and it'll deliver full -- its full potential within the next year. And we have another plant coming online this year in Stockton, California, and that will come online this summer and should deliver full earnings in We also have 2 landfill gas projects that will come online, one outside of Los Angeles, a megawatt project, which is huge for the landfill gas world, and then a megawatt project in North Carolina.
And this also demonstrates how we follow our core competencies and our investment criteria in niche markets. So California had a period where there was high renewable power prices, and we were able to use our unique skills and ability to find an area, converting these coal plants to wood plants, take advantage of that.
Now these high renewable prices may no longer be available, so we have to find new ways then that we can add value in these areas, perhaps through acquisitions of plants where we can increase the operating ability and add more value that way. So this is the business we like for the near term net income from our construction projects and then opportunities as well. Then our reduced emissions fuels business is also going well. And this business, again, we produce the fuel by blending additives with coal.
And when it's burned in coal-fired power plants, it reduces the NOx and mercury emissions. However, you had to be -- you have to have your plants in service for IRS deadline prior to for this. And so we've had 9 plants that we placed in service. But now -- the goal now is to get these placed at host sites where they can maximize the value. And it's good for host sites as well because they lower their emissions, as well as reducing their costs at the same time. And we have 3 plants that are either underutilized or redundant in their current location, but with the opportunity to relocate these to maximize the value of this program.
Now of these 3, we expect one of them to come on in the third quarter. We've completed all the contracting, and right now, we're in the permitting stage. And after final permitting, it's about 3 months of construction period, and this should come online then. And the other 2 facilities, progress is also going well.
We have -- we're nearing the end of our contract negotiations on one of them, and we'll go into permitting and construction stage and hope to have that online at the end of the year. And for the ninth facility, our third one that's available, we are -- we have some good host sites that we're discussing with now and still hope to get that to progress quickly through the end of the year as well.
But this is another example of a business that we've been able to initiate, make it into a successful and valuable business for DTE. As we discussed, this has been a very successful business. And by executing on these initiatives that we discussed here, we're going to continue this success. I think now, Dave will take and put it all together for us.
Meador Thanks, Dave. Let me wrap up quickly here, and then we will take your questions. So I'm going to wrap up with our last priority and start talking, first of all, about the guidance for this year. We increased the guidance at the 2 utilities based on underlying performance, regulatory certainty, including the rate proceeding that was just closed out at DTE Gas that provided the infrastructure recovery mechanism and ongoing cost performance. So given our goals of consistently hitting our authorized returns, we've also continued to, and you'll hear about this from quarter-to-quarter, we'll continue to use our Lean and invest strategies that we demonstrated last year as we worked our way through some volatile weather.
And that represents a 5. We'll continue to hold Energy Trading at our conservative level. On this slide, we're providing a 3-year outlook on our sources and uses of cash, and let me start on the right-hand side. Our plan is to continue to do what we have been doing and issue that equity through our DRIP and pension plans. As you know, maintaining a strong balance sheet is a priority for this company.
We've done it in the past and we'll continue to do it as we go through this healthy growth period. This is our projected leverage in FFO. And as you can see, we're targeted to remain right within our goals. We also continue to take advantage of current market conditions. Given a lot of what we laid out for you today, including the recovering state economy, the very stable regulatory environment and the company's performance, we've also seen a series of credit upgrades from all 3 rating agencies, and we appreciate the fact that the positive changes that are playing out in Michigan and also with the company have been recognized.
This brings us to the end of our formal presentation, and I will take questions. But I just wanted to bring this together, and hopefully, we've brought to you the insights about how we're operating the company as we pursue our aspiration of being the best operated energy company in North America.
Hopefully we've conveyed this to you. We and our employees have a lot of passion in this whole operating system in how we do our work everyday. We know it's driving great results, but it's also the company that we want to be. And you could see a lot of the elements of what we stand for as we continue to build this operating system. The operating system also, the financial priorities are on the right-hand side, and I believe we've done a good job in driving consistent financial performance, both in earnings and dividend growth.
And as we continue to work this, we're confident with the amount of capital that we have in front of us that we'll be able to provide superior financial results for many years to come. So with that, I'll turn it back to Gerry, and we'd be happy to take your questions. Anderson On the second half of the morning, we've had a chance to review our political and regulatory environment, get some comments from outsiders, including the governor, as well as review with you the primary investment opportunities we have, and I look forward to the next couple of years on earnings.
So we are open for questions on any of that or really on anything that you've heard this morning. So who would like to kick us off here? Unknown Analyst You guys gave us today the 3-year look at CapEx. Not to pin you down, but I was just wondering if maybe you could speak through -- speak to some of the things, the gives and takes, that might give us some timing at which are the big years, which are the lean years, that sort of thing?
Anderson In terms of CapEx? Unknown Analyst In terms of CapEx, yes. I mean it's not -- I presume it's not perfectly ratable for the period? Meador It is pretty close. Anderson We have another over that way. We have one here, and then one back in the corner after that. First, how long does that go? Second, how consistent will that be or will there be some lumpiness between now and whenever the end of the target is? Anderson So how long does it go?
One of the things we tried to address this morning was -- and I know it's a question that's arising in the industry. Once you get outside the 5-year window roughly and some of the near term, at least EPA investments play their way through, what happens after that? And is -- 10 years is a long way to look out.
But as we look out past 5 years, we see a lot of factors that continue to suggest we're going to have levels of investment that are at or above what we're dealing with now. In the Electric side, Steve described that we are going to see a turnover in our electric generation fleet, and that's a capital-intensive area. But our state needs to get on with investing in the next generation of assets. Gas, Gerry described, we've got a long-term infrastructure replacement underway there.
We don't see that ending. EPA isn't stopping with some of their things. So as we look out and try to be realistic about what's coming, we don't see the utility side pulling back. Similarly, on the non-utility side, we would expect to continue to see good opportunities.
When we modeled it, it isn't lumpy, so we don't see bursts and stops. But we're pretty clear on an annual basis and on a long-term basis. We have got to have something in there for unexpected that we're certainly going to hit along the way. So we're trying to build a plan to go beyond that, with the hope that we can deliver predictably on that number. And 10 years is a long time.
We'll certainty get things we don't expect. What we're trying to get good at it in this company is dealing with the unexpected, and that's scrambling when it arrives but actually have things in our portfolio that allow us to respond effectively, whether that's costs that we've invested forward against to be able to respond to unexpected changes or whether it's growth where we're pursuing things that if one thing falls out, we've got another that we had on our portfolio we can backfill with.
Does that answer it? Okay, thank you. Back in the corner there. Mark Barnett - Morningstar Inc. I did have 2 quick questions on both of the -- those lines where you give customer rates. You said something, I just wanted to be clear, were these -- the current rate versus potential, were these net of your supply and fuel costs? We've actually entered some rail contracts recently that were a significant cost reduction for us.
We're working with fuel blends that are very material in terms of their ability to affect us. Our hope would be to be able to keep those flat, down. Steve, is -- anything you would add to that? Kurmas No. The chart specifically dealt with base rates. But as Gerry pointed out, we've got a lot of initiatives around power supply costs. And our goal was to hold both flat to declining over the period.
Anderson Then on the gas front, I think what we were dealing with specifically was base rates. The forward curve on gas is up a little bit, but the experience has been it's moved up and we expect it to be reasonably flat over the period. So we'd like to operate in a reasonable cost gas environment and hold our base rates very flat. And I did actually just want to ask a little bit about that on the gas side, in terms of supply for the utility. Is there any -- I know this is something that's probably been asked a lot over the years and hasn't really gone anywhere, but any chance that you've been able to maybe talk a little bit more about longer-term contracts with some of the producers that are looking at a lot of volumes that don't really know what to do with coming out of Marcellus?
Anderson Yes. Jerry, why don't you take a shot on? Gerardo Norcia Sure. So we do have term contracts for supply, but it's usually no longer than 3 years on average. As we look forward, I think we've been discussing with the commission to continue that practice.
Anderson So we haven't had an explicit discussion with the commissioners about taking a year deal or something like that. We've had this on a 3-year build of supply in place, and it looks pretty well to keep the volatility out of price movements. The environment evolved in a way where there were some things that looked like a longer-term supply agreement might make sense. We could talk to them, but we'd have to get their agreement to move on that.
Other questions, yes? Unknown Analyst Two questions on your continuous improvement policy. Does that also apply to the non-utility businesses? And secondly, it hasn't gone unnoticed given all the awards you gained. Has that meant that it is easier for you to attract talent that because talents goes with the successor?
But also, how does that make you think of retaining managers? Because somebody out there must be interested with people that has experience and gotten over that initial enthusiasm for this. You said yourself, it's been 20 years now, and it's working on a day-to-day and not everybody has been that successful. Well, on the first question on the non-utility continuous improvement, why don't I let Dave Ruud answer that one. I'll take the second question.
David Ruud It truly is a corporate initiative throughout our company to drive continuous improvement everywhere. And so we're also involved in it throughout all of our plants and facilities and in our corporate offices to drive improvement there. You want me to talk about retention for you too, Gerry? Anderson I -- geez, if you want to take a cut at it, go ahead. Well, maybe I better take that one. Senior people are no different than people down in the company. I think ultimately, they're trying to have a balance between opportunity.
So we have to keep our compensation and opportunities set for people strong. Given our performance, it has been strong, so that's been a good thing. But they balance with that, whether they're enjoying their life.
And whether people ask them the question, "Hey, do you like your job? And so when you get things moving where we're plowing new ground and doing things to make the company better and it's working, and you're doing things that you think are important for your state and your communities, people have a lot of fun in trying to satisfy. So our experience is if you pursue that now, you actually have a better retention factor, even if things are working well and people may look and say, well, that would be a good place to try to take somebody.
And the fact that people enjoy their work and are having fun is pretty strong retention. Unknown Analyst And maybe a follow-up, if I may. Do you believe that Michigan has created a sort of sustainable climate in constructive regulatory environment and this friendliness overall, so that maybe your company could be southern company of the north, and maybe Michigan could attract other industries rather than just auto and steel?
So kind of that positive feedback look and -- outlook and maybe good economic growth in many years ahead because governors, they come and go, so that plan should hopefully be sort of more sustainable. A couple of comments. I think Michigan over the past 5 years, on many fronts, has remade itself. Our largest industries dealt with a series of issues that had plagued them for decades.
They flushed those through and are fundamentally different today than they were 5 years ago. Our state government is functioning well and within its means for the first time in a long time, like a lot of state governments, that have ways of hiding the pee. We're not doing that now.
State government is functioning better. We are in the midst of going after our largest city. Interestingly, Detroit is seeing a big influx of people wanting to live there. You can hardly find places in midtown and downtown to rent, so people are running with their feet, but we've got to get government in the city right. So there are many fundamentals in Michigan that are much better. On the regulatory front, I think that we do have a construct in Michigan that is split from adversarial to one where people realize that to attract investors like you into the state, you need to be able to project an image of this being a place that capital invested earns a fair and good return.
And I think that's the posture that the state has moved to in trying to present a new image of itself. Now we can screw that up. If we don't do our part, if we don't manage our costs well, if we don't serve our customers well and so forth, you all know that, that leads to rightly, leads to increased scrutiny and tough regulation.
So our job is to keep our CI moving well, to keep driving customer satisfaction north to keep ourselves aligned with the state's economic development agenda and do that really well. And we think if we do those things well, the prospect of doing what you're talking about, which was continuing a constructive environment, is high.
The Gas segment is involved in the purchase, storage, transportation, distribution, and sale of natural gas to residential, commercial, and industrial customers throughout Michigan, and the sale of storage and transportation capacity. The DTE Vantage segment focuses on projects that deliver energy and utility-type products and services to industrial, commercial, and institutional customers, produce reduced emissions fuel, and sell electricity and pipeline-quality gas from renewable energy projects.
The Energy Trading segment covers energy marketing and trading operations. The Corporate and Other segment composed of various holding company activities, holds certain non-utility debt, and holds certain investments, as well as funds supporting regional development and economic growth. The company was founded in January and is headquartered in Detroit, MI.
Dte energy company investing businessweek bonnie dacil bettinger
DTE Skilled Trades Overview
Other materials on the topic
0 comments к "Dte energy company investing businessweek bonnie"